The Pathfinding Journal
Regular price
Sale price
$44.00 USD
Unit price
per
Sale
Sold out
A celestial journal for tracking astrological transits and mapping your cosmic journey.
🌟 Introducing The Pathfinding Journal - your celestial guide for tracking astrological transits and mapping your cosmic journey! This undated journal is designed to help you uncover more layers about yourself, your deepest desires, and the energy of the universe around you.

💫 As you move through seasonal and astrological events, such as Seasons, Planetary Retrogrades, New and Full Moons, and Zodiac Seasons, use the writing prompts to reflect on these energies and how they affect you. The undated pages are perfect for recording daily insights like moon phases and signs, tarot or oracle card pulls, and any signs or symbols you encounter. Over time, you'll build a reference guide that helps you navigate your path with confidence and grace.

🧡 This beautiful A5 journal has 192 gold-edged pages printed on high-quality, environmentally friendly FSC certified sustainable paper. Encased in a durable soft cloth cover with gold foil accents, it includes two ribbons to keep your place and an elastic band for safekeeping.

🌍 Your purchase supports our commitment to being as eco-friendly as possible. Made from recycled materials, even our shrink wrap is plant-based. Plus, we're proud partners of 1% for the Planet, giving back 1% of our annual sales to support environmental causes. 🍃

💖 Get ready to explore your innate connection to the cosmos, trust your own rhythms and desires, and embark on a personal journey guided by the stars. Let The Pathfinding Journal become your constant companion as you forge your path home. 🌙

 Don't wait any longer; grab your very own Pathfinding Journal today and start unlocking the secrets of your cosmic journey.

THE SECTIONS
The Cycle of Seasons
Let the Stars of the Zodiac Seasons Guide You
Slow Down with Planetary Retrogrades
The Hope of New Moons and Fresh Starts
Full Moon Magic
Find Your Path
THE JOURNAL
A5 size, 192-page count
Gold foil cover
Durable and soft cloth cover
Rounded corners
Two ribbons to keep your place
Printed on FSC certified sustainable paper
High-quality 110 GSM paper
Elastic band for safekeeping
Gold edged pages


Shipping

Most orders are shipped within 2 - 3 business days.
View full details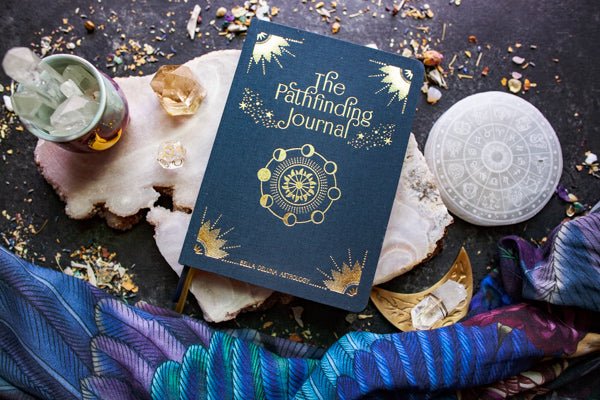 15% off your first order

Sign up for our newsletter to get 15% off your first order.

Newsletter Sign Up

Free Shipping

Domestic orders over $75 automatically receive free shipping.

Eco Conscious

We strive to be as environmentally friendly as possible. We use recycled material for our boxes and paper, and we are a proud partner of 1% for the Planet, giving 1% of our annual sales to support environmental causes.
Beautiful
Such a beautiful journal and the prompts are so thoughtful and helpful, I love it!
Stunning
I loved the main journal, but I'm just not a daily journal person. SO happy to have an undated option that allows me to hit the big moments, while allowing for space to journal as I'd like. Absolutely stunning and a wonderful guide.